What is an Amazon FBA Prep Center?
An Amazon prep center is a service that receives and adequately prepares your inventory, then ships the inventory for you to Amazon's fulfillment centers. The prep center will handle everything for you: bubble wrapping, bagging, labeling, packaging, and shipping. If you are reselling wholesale products or sourcing items via online arbitrage, you can choose to send all of your inventory directly to the prep center. That way, you never need to see or handle any products. All you do is place the order. That can also be done for your private label products if your supplier doesn't prep your inventory for you.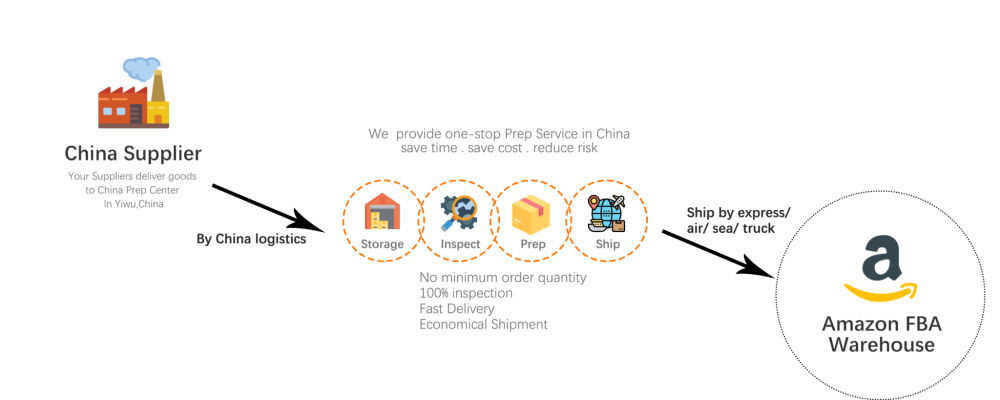 FBA Freight Provider – Shipping From China To Amazon FBA

Pick Up Your Goods
We can pick up your goods for free if it is ordered in Yiwu area, if not, the goods can be sent to our warehouse at your supplier's or your cost.

Inspection Of Goods
We inspect the goods upon arrival and let you know the damage if any is found to make sure your goods leave here in good condition.

We Provide 30 Days Of Storage
We can consolidate the orders from different suppliers and send them in one shipment to save you time and cost. You have 30 days of free warehousing once placing the orders through us.
Additional Amazon FBA Prep Service

FNSKU & Labeling
Putting FNSKU sticker on every iten and shipping carton labeling on all cartons.

Bundle Packaging
To package the products; as you request for dropshipping or container shipping.

Final Packaging
To ship your product as per your instructions, we also do customized packaging at the end.

Product Fixing
We do 100% inspection to figure out all potential problems and fix them before shipping, including repIacement for new products or new packaging.

Poly Bagging
Assembling components into bags and bagging loose parts in kit.

Advertising Materials
Putting insert cards, gift cards, instruction manuals, and commerciaI ads into packages.
FBA Freight Provider – Shipping From China To Amazon FBA

Finalizing a shipping plan
Making a plan in Amazon Seller Central account and send us the FBA labels and shipping schedule. We will take care of the rest.

Your instructions are required
Send your cargo to our warehouse and ask your forwarder to pick it up. We can also arrange the shipment if the cargo goes through our own forwarder. Your instructions of prep service is needed.

We prep your goods
As soon as your cargo is ready for shipping, we can send it directly to FBA centers around the world once having your shipping plan and instruction.
FBA Prep Service Pricing
No upfront fee before the sourcing service. We only charge when you are satisfied everything with us from sourcing, quotation, order following to shipping.
We are committed to source high quality products with a best possible cost via a complete transparent process. NO HIDEEN FEE will be charged.
Basic Service
Pricing
Remarks
Pick-Up
Free
Free pick up from Yiwu
Up to 5-10 Days Storage
Free
5-10 days
General carton Inspection
Free
Check all cartons
Service
Pricing
Remarks
FNSKU Labeling
$0.1/item
print and stick FNSKU labels on each of your package
warning and other labeling
$0.1/item
print and stick labels on your package
Marketing and coupon inserts
$0.1/item
Insert materials offered by your side
Poly bagging
$0.1/unit
Bundling in a set
$0.1/bundle
Less than 4 items per bundle. USD0.05 per extra item
Warehouse Storage
$5/cbm/month
For storage over 30 days
Repackaging
Inquiry
1 by 1 inspection
Inquiry
Reduce your Amazon store ODR
No. 52, North Jinlin RD, Niansanli Industrial Park
+86 13858941517
+86 13858941517
SQUALL660
m.me/nickbriant007
INFO@YOURCHINAGENT.COM