How a Freight Forwarder Can Help Your Business?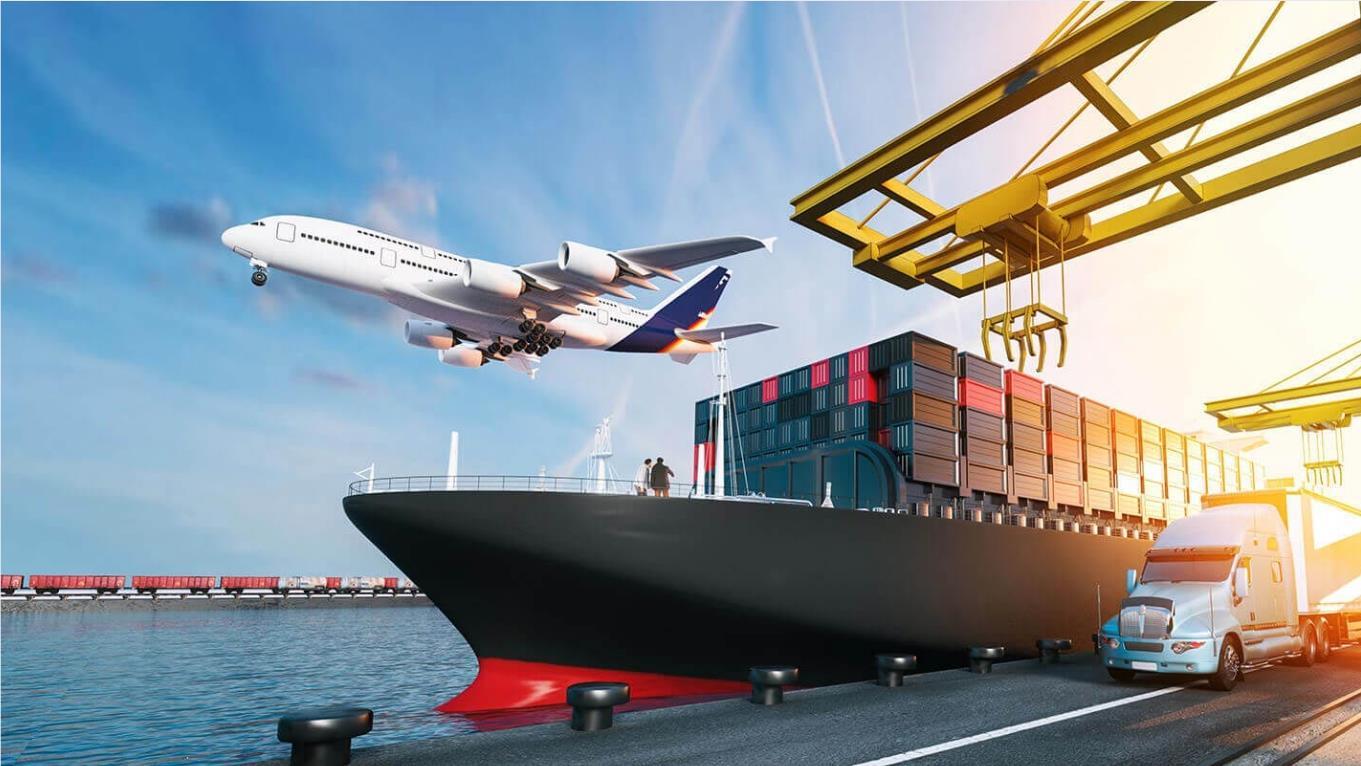 A freight forwarder is a company or person that handles the transportation of products from one place to another.
It has played an important role in the growing e-commerce.
They will help sellers bring the products that shoppers buy to where buyers specify on their order. The goods are in hand, and the freight forwarder is in touch with the buyer and the seller.
RND has a good professional relationship with freight forwarders, because not only can they save you extra work, but they can also offer you very reasonable low prices.
All you need to do is place an order. They'll handle the rest and you'll get the product on your doorstep.
Simply put, a freight forwarder is a third party responsible for bulk shipping your products from the source or origin to the destination.
There are many reasons why you need to hire a freight forwarder for your business.
When you order samples of any product from different countries, you have to pay for each sample, and since their packaging is moved in bulk, companies don't value small samples.
You may have to collect each sample individually through tariffs. The freight forwarder will package all samples and provide them to you without separate charges.
So, in short, the freight forwarder knows best how to handle your products and hire the best freight forwarder you can contact to hire the best freight forwarder.
Difference Between FCL and LCL
FCL stands for Full container load, and LCL stands for less than container load.
FCL: Book FCL only if you need the entire Container yourself. You can use it completely filled or half empty depending on your requirements. It comes in 3 basic sizes:
20 feet 26 cubic meters
40 feet 54 cubic meters
40-foot-tall cube, 68 cubic meters
LCL: If their shipments are low, then you can choose LCL. In LCL you can also simply share container space and price.
Which One to Choose? FCL or LCL?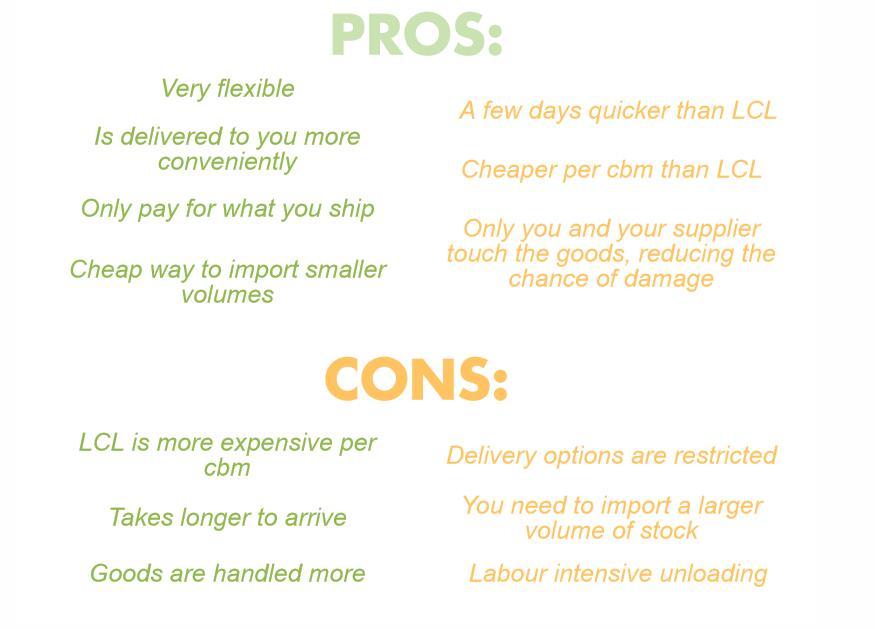 It is difficult to choose between FCl and LCL as they both have advantages and disadvantages mentioned below. Choosing one of them depends entirely on your requirements.
Whether you choose FCL or LCL, the most important thing is that you can always contact RND as they have 15 years of experience to help you make the right choice.
The Best Way to LCL Packaging
One of the most important aspects of product shipping is the packaging. When you use the FCL approach, you own the entire container yourself, so you know which products are moving with each other, but in LCL you also share containers with other businesses, so they can be objects that can be damaged How much of your product is a possibility? If most of the electronics you import or export are very sensitive and must be handled with great care, then honeycomb or corrugated boxes are the best options.
Fragile material trays are the best choice for heavy-duty products. There may be many types of pallet paper, wood, metal and plastic. All developed countries require International Plant Protection Convention (IPPC) packaging prior to admission. The best way to avoid fumigation is to use a non-fumigated tray. For heavier products, use a good quality pallet so that it can handle the necessary weight.
Control China's Shipping Costs
When it comes to bulk shipping, even the largest businesses with strong financial backing want cost savings. A key to cost savings is custom packaging. For example, if you can't fill 1 container with all 100 products, you can change the packaging to fill the container. You should utilize the full space of the container in the FCL, and you should only use the LCL for a small number of products.
Sometimes your local freight forwarder doesn't save extra costs as a Chinese company does in China. Yes, it's hard to trust any other company that doesn't belong in your country, but it's one of the best ways to save money. Your local freight forwarder may be easier to handle initially, but they are not the best in other countries like China when it comes to saving money and time.
Customs Clearance:
Customs clearance is basically the paperwork that has to be done to facilitate the import and export of the country and is presented to customers during a customs inspection, assessment, duty payment, and document pickup. It mainly consists of preparing all the documents used to calculate taxes, duties, and GST.
In short, we can say that when goods enter or leave the country, there is a duty to be paid and you have to pay for it so that you have legal rights to the product, also known as paperwork or customs documents. Customs clearance duties vary by product and type. These documents are proof of your claim to own the product.
Documents Required for Customs Clearance:
There may be two types of import or export of customs documents, depending on which one you perform. Import and export documents, which typically include bills, sales invoices, certificates of origin, licenses to use products, or other specific documents required by financial institutions in accordance with the regulations of the importing country. Customs documents prepared for import and export vary from country to country, depending on its rules and regulations.
So when you choose a freight forwarder, they must be able to handle your customs clearance, but you can also choose individually if you prefer.
Make the Customs Clearance Process Smooth
There are two important things that can help you go through the customs clearance process smoothly and save you a lot of trouble, such as extra cost or time:
1. Load Your Container Correctly
It is very important to properly load your cargo in an appropriate manner. If you don't load it properly, it will cause unnecessary inspections, resulting in shipping delays and unwanted costs. Improper loading can lead to scrutiny of international shipping and red flags from customs.
2. Details of Delivery to Freight Forwarder or Customs Broker
The second most important thing is to provide your product details to your customs broker or freight forwarder. There is a lot of paperwork and it gets complicated why having an experienced freight forwarder can help and save you time and costs.
The above details the benefits of a freight forwarder helping you with your business, if you would like to contact a freight forwarder, please
contact us
.
RND is a professional
sourcing agent for Chinese products
. Founded by Riona and Nick in 2007, located in Yiwu, China, the world's largest international wholesale market. Every year, thousands of buyers come to Yiwu market to purchase and purchase. We started working with Amazon and Shopify sellers 6 years ago on product sourcing, development, bundling, packaging, manufacturing, supplier management, FBA shipping, and more. With our help, more and more of their products have become Amazon Choice and Best Seller.